As we all know Pakistan is not on the usual traveling list. This country is one of the least traveled countries, but we all should know about it all Backpackers land to Lahore while there are also two options more we have, Islamabad and Karachi then why Lahore?
The first thing that clicks to mind is why Lahore is such famous either it is Pakistan's 2nd largest city but still has much more popularity than Karachi. You will hear every Pakistani will saying "If you have not visited Lahore, you have not yet been born". Lahore is one of the old and historic cultural cities of Pakistan. This city is also fit for you if you are fond of history and wanted to learn something more depth about history. This city is full of ancient and historical architectures and museums of Raja and Maharaja Time. The museum shows the graph of the living and generation gap to familiarize themselves with it. There are plenty of interesting things to do in Lahore for backpackers. If you're planning to visit Pakistan, Lahore should be on your list.
Pakistan is a more natural and beautiful country all around the world. This country is opening more and in wider areas for tourists and offering a warm welcome to them. This country has four seasons at every season it has its own beauty with such beautiful mountains, greenery areas, hosting people and authentic culture. There is no better time to visit this country than now.
If you are planning to visit Lahore for the very first time, you have to read this and follow guidelines to make your bag tight to see the beauty of life. Below you will find all the headings and information you need to prepare yourself for what to expect and crazy things to do. Here you will know all the essential details to plan your trip to Lahore. Let's start from over the start, shall we begin?[/vc_column_text][/vc_column][/vc_row]
---
Perfect Time To Visit Lahore
The best time to tour Lahore is at the End of the Year, from September to October, as the weather turns a little cooler. The Northern Areas are also open in this season, where are hiking trails for backpackers to go up and hike around Skardu, Sawat and Gilgit Baltistan after.
---
Where and How To Stay In Lahore
Budget for Backpackers – 8.00 USD/Night (Dorm/Hostel)
There are many hostels in Pakistan for foreigners. Old Lahore is the place where all backpackers hit with each other, unfortunately, and you found the best people to travel with. This place is also walkable ( 30 minutes walk to the Lahore Fort) to the old Lahore's most magnetic place. This dorm doesn't include aircon where it is not fun to sleep in this scorching heat. In some rooms there is aircon, but you have to pay double approx 10 USD. I think this experience is much better. To be honest, don't expect much from this type of dorm. If you can afford it, there are many 2 & 3 Stars hotels out there that are luxurious to live at night.
---
Food In Lahore
Near Fort Temple and Lawrence road near Lahore Backpackers, you will find a traditional and delicious breakfast that opens early in the morning at 6:30 AM. Here you can find a paratha(flatbread), omelet, yogurt, aloo paratha(potato flatbread), and chai you get the best breakfast for only 80 PKR if you set your accommodations in 2 or 3 stars hotel in Gulberg. There are many cafes where you will get excellent Pakistani fusion food to taste.
---
Daily Budget
This place is cheaper as compared to other countries. If you are planning to trip to Lahore, you can expect 25-50 USD per day per person in this budget it includes accommodation and 3-time meals.
Keep in mind this suggested budget is based upon my traveling style, which is flexible more toward the spending side of things. If you want to stick to this budget, you have to sleep in dorms, eat a few times, and enjoy using the cheapest and most convenient transportation method by wandering in Lahore, which includes often walk.
---
What to pack for Lahore's visit, Pakistan?
As I am a light traveler and I like light packing for a trip, this is an art in itself. Here are few tips for packing for the Lahore trip, Pakistan:
---
How to get to Lahore
There are many airlines that do fly directly to Lahore from abroad. This is a great idea to start from Lahore and even you get cheap flights through Skyscanner or Expedia. Find a flight to Allama Iqbal International Airport (LHE). From here you find all the routes cheap and the fastest transport to all over Pakistan.
Suppose you are coming from other cities inside Pakistan. In that case, you can fly domestically via Pakistan International Airlines, or you get a Daewoo Express or any other local bus service or from a train. The train itself is also an adventure.
I prefer the Bilal Travels bus from Lahore to Islamabad for 1250 PKR it took only 4 hours to reach there. The bus is comfortable with comfortable seats, air-con and water serve the entire trip.
---
How To Get Around Lahore
I prefer the uber transportation mode as it has many benefits than a regular taxi and has no worries about haggle. You can also wave a hand to rikshaw passing by but never come to his first price they offer you. Keep in mind always negotiating the price before you get in and ensuring you both agree on the same price before you start your journey.
here are some general price to keep in mind when you negotiating with the rickshaw driver, may there are certain changes during a time and local market
Old Lahore to Gulberg  250 PKR
Lahore Backpackers to the fort  150 PKR
Lahore to Wagah border      1200 – 2000 PKR roundtrip
---
7 Awesome Things To Do In Lahore
Visit The Badshahi Mosque In The Morning
The Badshahi Mosque is one of the most beautiful mosques in Pakistan. This mosque is built by Emperors, which shows a great sign of architecture. It remains the largest mosque of the Mughal-era and is the second-largest mosque in Pakistan.
There is a bigger scale where you can have a peaceful walk by watching an exterior decorated with carved red sandstone with marble inlay. The best time to visit is in the morning at 9 AM when its gate is open and perfect lights with the morning sun shines towards Badshahi Mosque. There are also fewer people in the morning so that you can enjoy the mosque in solitude.
If you arrive early in the morning at the parking lot of the Badshahi Mosque, you might be able to see some youngsters playing cricket, so an eye on the ball to dodge when it comes in your way. I feel very sorry for those people who parked their cars in the parking lot.
---
Explore Lahore Fort
Around the Badshahi Mosque, you will find a security line that will take you to Lahore Fort. Lahore Fort is a Mughal-era fortress with several impressive palaces, gardens, and museums, all behind the fortress wall.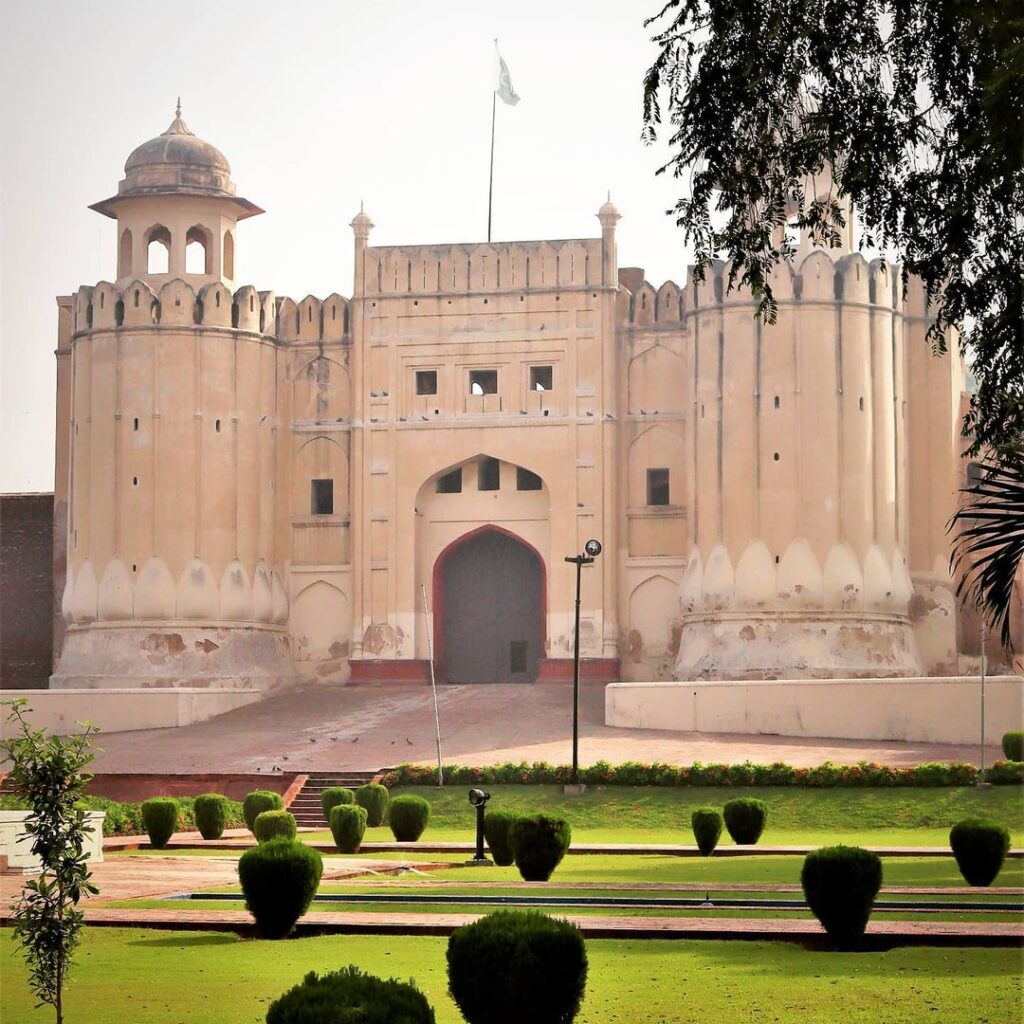 This fort has stood for many generations and passed many trials, housing various rulers from different areas. It can be seen through the various styles of architectural design present in the fort. From the Persian style audience hall to the Hindu style of the elephant-shaped column supports.
The fort is huge, so be sure to spend a few hours walking around the area and seeing all the buildings within the wall.
---
Admire The Craftsmanship Of Sheesh Mahal
In the Lahore fort, You will find a beautiful structure called the Sheesh Mahal, or the Palace of Mirrors in the northwest corner of the fort. The palace was built under the reign of Mughal Emperor Shah Jahan during the 16th century and has been fairly well maintained since then. The unique thing about this place is the ornate white marble pavilion walls decorated with intricate mirror work unlike anything else in the fort. It has become the most important structure in the fort and can easily go unnoticed if you don't know its location
.
---
Find Solitude At The Wazir Khan Mosque
After spending some hours at the fort, take a rickshaw and ride to the Wazir Khan Mosque, one of my favorite and beautiful Lahore places. This mosque doesn't get as many local tourists as places like Badshahi Mosque and you can walk around the mosque at your own pace.
The mosque is considered the most ornate mosque in Lahore and can be seen through the many intricate details around the mosque, from the beautiful tile work on the door to the ceiling pattern. The mosque is considered the most ornate mosque in Lahore and can be seen through the many intricate details around the mosque, from the beautiful tile work on the door to the ceiling pattern. You can also visit up to one of the towers during prayer time, but it was closed when I was there.
---
Walk Around The Market At Delhi Gate
Just a few steps east of the Wazir Khan Mosque, you will find a path through a market that will take you to the Delhi Gate, a beautiful historic gate, one of only six left around the walled city Lahore. The door is lovely, but the market is the highlight. You will meet many friendly locals who will greet you in their shops, a great opportunity to experience Pakistani hospitality.
Feel free to accept a random greeting from a stranger if he approaches you when strolling through the market. Pakistan has not yet been plagued with mass tourism and the people are really nice and often just curious about you.
I've had a lot of good times with the most random people here in Pakistan. Hospitality in Pakistan is the next level and you will see acts of kindness in the most unexpected way you can imagine here, except when it comes to taxi drivers. They are the worst, no matter where in the world you are.
---
Learn The History At The Lahore Museum
Lahore Museum was built during the British frontier time in a Mughal-Gothic architectural style, representing Indian architecture through the eyes of Westerners. The museum is built with impressive red bricks that are quite common in Lahore structures built during the British Raj reign.
The museum displays archaeological materials from prehistoric times and houses many artifacts and relics from the Indus Valley. It's a great place to hide from the afternoon heat and enjoy a bit of Pakistani history.
---
Witness The Border Ceremony At The Wahga Gate
At the Wagah Border, there is a daily military practice Ceremony on the Pakistan-India border, 24 km from Lahore, where soldiers from both countries participate in a fast-paced, dance-like parade symbolizes rivalry, brotherhood and cooperation shared by the two countries. If you have a night off, be sure to take a taxi to the border and witness this once-in-a-lifetime ceremony before leaving the city.
---
Resources
And there you have it, a guide to cool things to do in Lahore. Lahore is a nice city to start your trip to Pakistan and I hope this guide will help you set the foundation for your trip to other areas of Pakistan. If you have any questions about traveling in Lahore, Pakistan, feel free to ask me in the comments below:
Now we have all the necessary information that we need. It's time to jump in and plan your trip to Lahore, Pakistan! Here are some resources to help your journey to start:
What to pack: Help you get started packing; here are 47 essential travel items that I took with me on my trip to Lahore, Pakistan.
Flights: TripAdvisor Flights, Skyscanner, and Expedia are the best places to start looking for cheap flights and great deals from your home country.
 Accommodation: Hostelworld and Booking.com are the definitive access platforms to find amazing hostels and hotels at an affordable price.
Homestay: Airbnb is the best platform for a more local experience when staying in Lahore, Pakistan. In this way, I can meet a local first-hand and access local information that I would not otherwise have.
 Travel Insurance: World Nomads will provide you with a wealth of insurance options to cover your trip.
 Transportation: Bookme. pk is a great place to look up the bus schedule and buy tickets online in Lahore, Pakistan, that would not otherwise be available online.
 Car rental: Rentalcars.com, a trusted platform to find rental cars in Lahore, Pakistan.
Day Tours and Excursions: Get Your Guide or TripAdvisor are great platforms to search for things to do in Lahore, Pakistan.
Are you planning to travel to Lahore, Pakistan, independently? Be sure to check out my guidelines on how to plan your first solo trip here.